BETAFPV Beta95X V3 Pusher Whoop Quadcopter w/ Caddx Nebula Nano Digital HD System and TBS Crossfire
Sold out
Original price
$305.00
-
Original price
$305.00
BETAFPV has reinvented the traditional cine-whoop with its brand new pusher designed Beta95X V3 Pusher Quadcopter! This digital HD pusher whoop comes with the Caddx Nebula Nano HD System and is plug-n-play with the groundbreaking new SMO 4K action camera.
Note: Lipo Battery and SMO 4K Camera are not included in the package. 
Features
Come with a built-in mount for the SMO 4K action camera for easy out-of-the-box installation, Beta95X V3 HD DIgital VTX is perfectly suitable for the SMO 4K action camera. Meanwhile, the drone offers a power cable for SMO 4K, more convenient for power input.
Beta95X V3 HD Digital VTX maintains a low center of gravity and easier to maneuver. Combining with SMO 4K, pilots can get a stable & high-quality video while in FPV flight.
Equipped with the nebula Nano HD System, perfectly supports the DJI HD system. This lightweight kit provides a stable FPV picture and long transmission distance, greatly bring you a unique flight experience.
Adopts a brand-new innovative pusher frame design, Beta95X V3 is more durable and easier for installation than Beta95X V2. In addition, the newly designed pusher whoop frame also comes with an EVA foam cushioning design to give you more safety flying.
Equipped with F4 AIO 20A Toothpick FC V4, 1106 3800KV motor, and D63 5-blade props, this highly efficient power system keeps Beta95X V3 more powerful and less noise in flight. For the battery, we highly recommend you using the BETAFPV 450mAh 4S battery to get the best flying experience.
Centering the drone's gravity by reversed-motor design and top battery place makes the drone more maneuverable to achieve all FPV freestyle tricks such as diving. 
Further improves the shock mitigation system to eliminate the shake of the camera, Beta95X V3 HD Digital VTX will make the camera more stable on the flight, which ensures pilots can capture all the beautiful moments of flight with the stabilized and clear video.
Specifications
Item: Beta95X V3 (HD Digital VTX)
Weight: 116.7g (without battery)
Wheelbase: 95mm
FC: F4 AIO 20A Toothpick Brushless FC V4
Frame: Beta95X V3 Frame Kit
Motors: 1106 3800KV Brushless Motor
Props: Gemfan D63 5-Blades Props
Receiver Option: Frsky/TBS/PNP 
FPV Camera Degree: 25°- 45°
HD digital camera & VTX: Caddx Nebula Nano HD System
TBS Crossfire Nano
Camera Mount: SMO 4K camera Mount
HD Camera Mount Degree: 5°- 45° 
Antenna: Air 5.8GHz Antenna (LHCP)
Recommended Battery: 450mAh 4S battery (

not included

) 
Battery Connector: XT30
Flight time: About 3.5 min flight with 450mAh 4S battery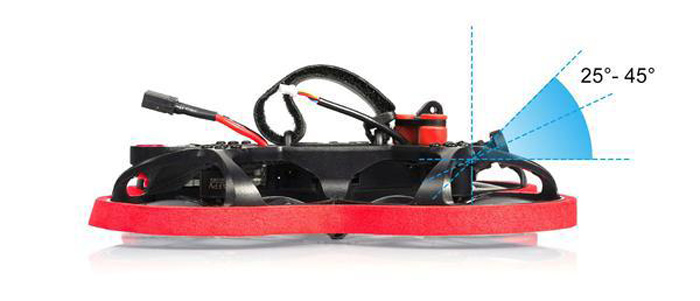 BETAFPV SMO 4K Camera (not included)
The SMO 4K camera is a high-degree lightweight action camera for FPV drones that was developed by BETAFPV & Insta360. The SMO 4K camera weighs only 30g and is a perfect match for almost any FPV drone. An all-in-one solution to your HD action camera needs. No more tearing apart expensive GoPros and worrying if you did it right. The SMO 4K will be the perfect action camera for pilots in search of high-quality video using FPV drones.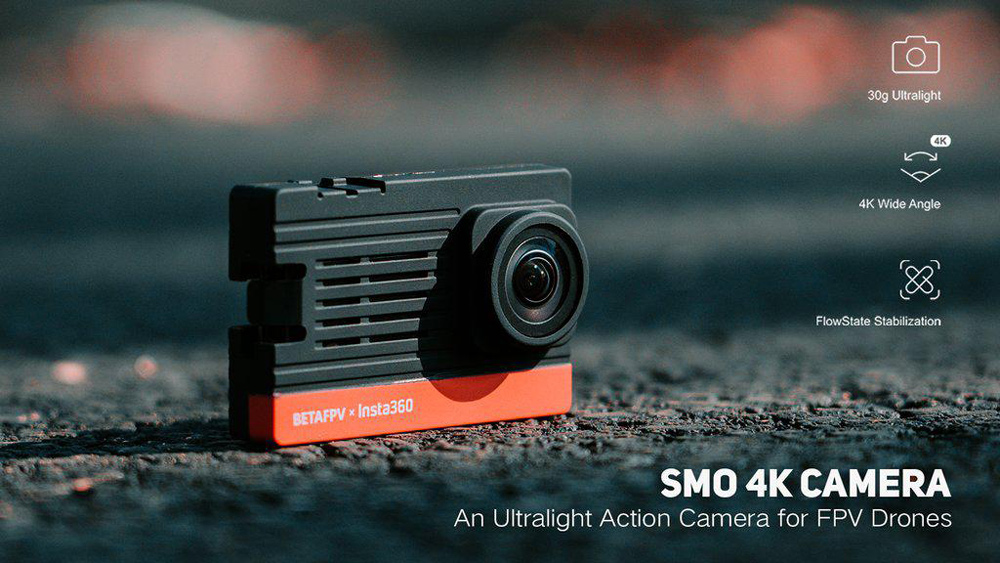 Nebula Nano HD System
The Caddx Nebula Nano HD System can perfectly support DJI goggles. With DJI goggles, it can provide 720p/60fps digital high-definition picture and a transmission range up to 4km. Users can choose 25mW/200mW/500mW/700mW from DJI goggle settings. The total weight (excluding antenna) is 24g only, about 26g lighter than the DJI FPV unit. Besides, it is smaller and designed for whoop drones. 
Beta95X V3 Pusher Frame
The newly designed pusher whoop frame - Beta95X V3 Frame not only puts all the cameras and batteries on the top of the platform, makes the center of gravity is right in the middle of the drone, brings the best fly operability but also gives Beta95X V3 high durability, easy installation, and a concise appearance. Compared with the Beta95X V2 pusher kit, the V3 frame is made of high-quality PA12 material, bringing more durable flight and no fear of damage. Meanwhile, it also comes with an EVA foam cushioning design to give you more safety flying.
FC & ESC
Beta95X V3 series whoop drone is equipped with the new released F4 20A AIO toothpick brushless FC, it extremely reduces the weight while improving the ability of the ESC to continuous current 20A, and brings pilots more power to fly the Beta95X V3 quad! Meanwhile, the new 20A FC V4 adds 2 pin connector ports for DJI Digital VTX and Rx, just plug & play, less solder work needed, super easy to install.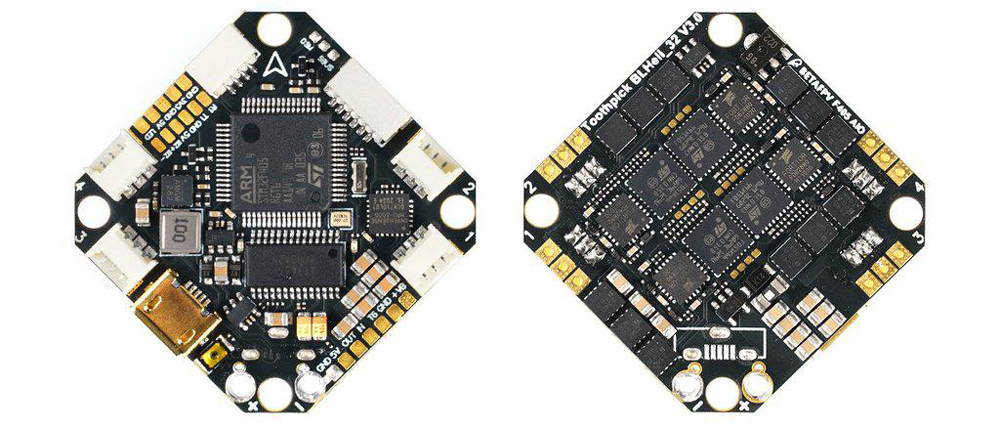 Motor & Props
Gemfan D63 5-Blades Props is designed for the inverted installation, and it brings pilots a smooth flight! Meanwhile, compared with D63 3-blades propellers, D63 5-blade props are more durable and more powerful, offers pilots a high-efficiency flight experience. Equipped with the 1106 3800KV Brushless Motor, it brings a stronger power and lower noise, which will give pilots an unprecedented flying experience.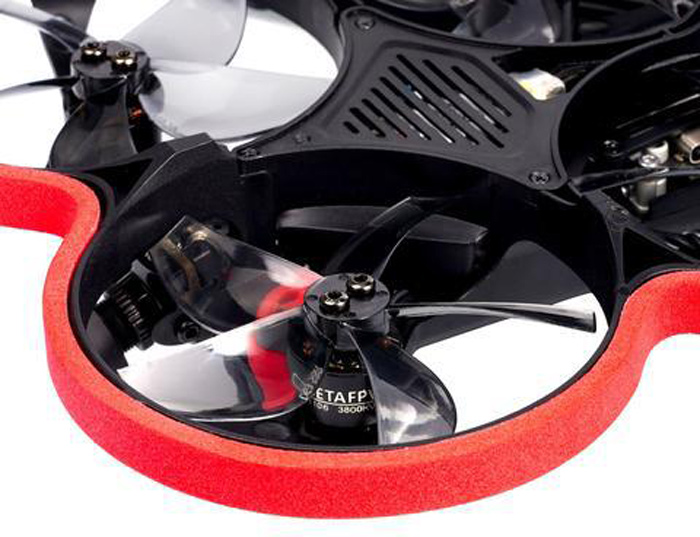 The Beta95X V3(HD Digital VTX)  drone also comes with "props out" by default. Why we need "props out" direction?

Default Betaflight props direction, quadcopter dips, and "washes out" in hard corners. With reversed props or "props out", no more dipping even in the hardest cornering.
Includes
1 x Beta95X V3 Whoop Quadcopter(HD Digital VTX)
1 x Gemfan D63 5-blades Propellers(2CW+2CCW)
1 x 20mm FPV Camera Mount
1 x Spare EVA Foam Tape
1 x USB Adapter Board for FC
1 x Type-C Right-Angle Adapter
1 x Adapter Cable for Customized Naked Camera
Note: Batteries and SMO 4K Camera are not included.