iFlight SucceX-D F7 TwinG Flight Controller (HD Version)
The SucceX-D F7 TwinG FC is designed to work seamlessly with the new DJI Digital HD FPV Air Unit. Works for both Digital and Analog builds.
To make things easier, the DJI Digital HD FPV Air Unit can just be plugged into the FC with the included wire harness. In addition, iFlight added the popular and reliable USB Type-C instead of the Micro USB. Therefore, this stack has the same standard as your DJI module, but the real magic of this flight controller lies in its Twin Gyro configuration!
Note: The DJI Air Unit is not included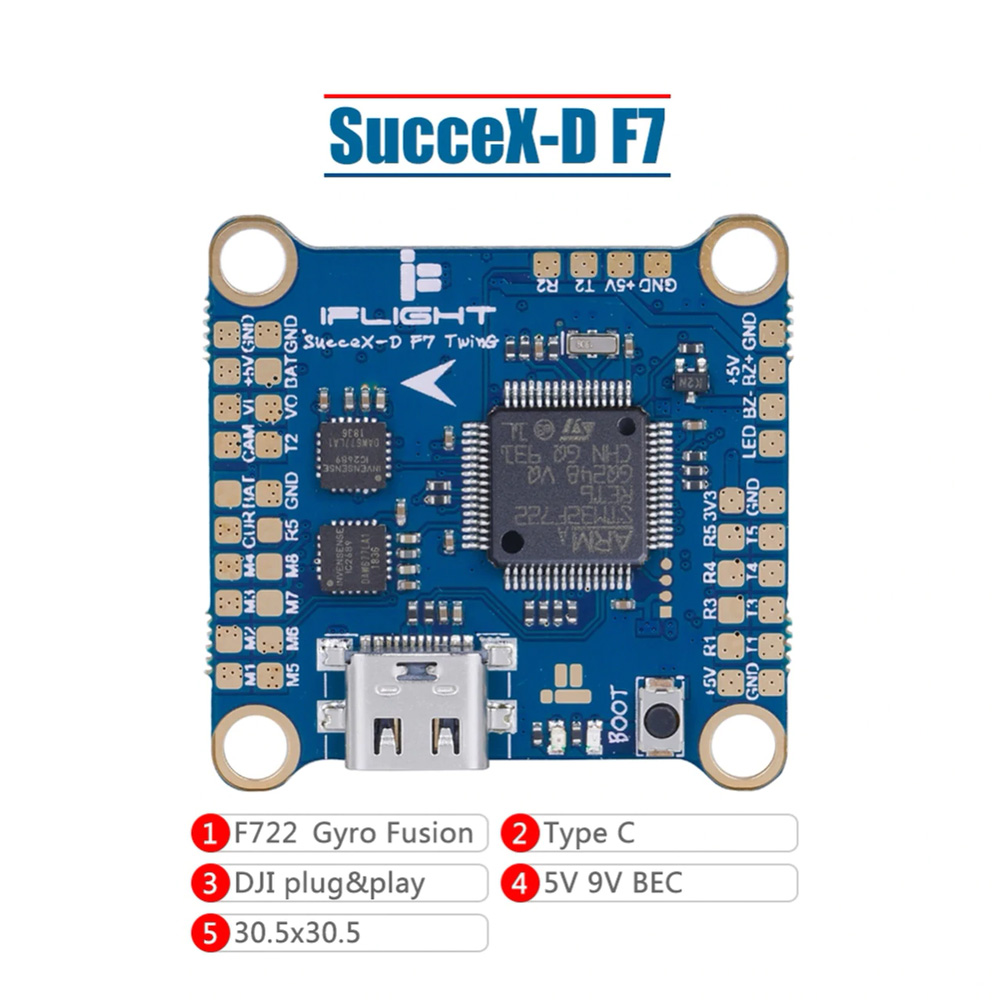 Features
Universal USB Type C connector instead of micro USB
Plug-and-Play. No need to solder tiny wires.)
Supports BLHeli pass-through for easy ESC upgrade and configuration.
Designed to support DJI Digital FPV.
Specifications
MCU: 216MHz STM32F722
Gyro:2x ICM20689
Baro: YES
Blackbox:32MB
Betaflight OSD: YES
BEC: 5V 2.5A / 9V 2.5A
Current sensor scale: 100
Inverter for SBUS input (UART2-RX)
Smart audio & Tramp VTX protocol supported
Beeper pad: Yes
RSSI input pad: No
UARTs:5
Motor outputs: 8
8 pin 4in1 ESC port (GND, VBAT, M1, M2, M3, M4, CUR, R5)
6 pin DJI Air Unit port (R1, GND, R2, T2, GND, 9V)
BLHeli32 Telemetry:RX5
Input voltage:recommended 2-6S, MAX 8S
Target: STM32F7X2 (CLI config necessary; Check SETUP GUIDE above)
Mounting pattern: 30.5*30.5mm φ4mm with Grommets φ3mm
Dimensions: 36*36mm
Weight: 7.5g
USB Type-C
Includes
1 x SucceX-D F7 TwinG Flight Controller (HD Version)